Credit Monitoring: What Can it Do For You?
Credit monitoring is an important concept when you want to purchase a used car, but can't pay for it out-of-pocket. If you enjoy the ability to afford an excellent and reliable used vehicle with flexible financing options, then you'll want to know a thing or two about it.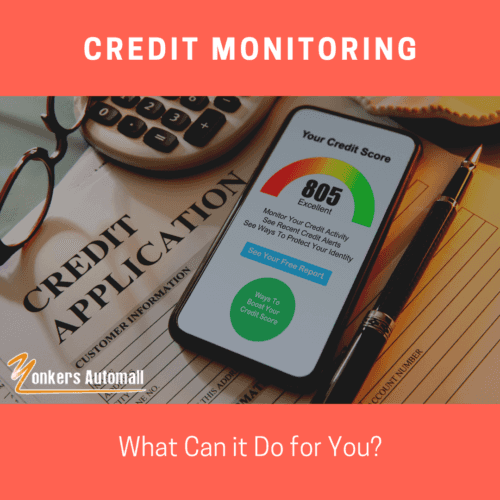 What is Credit Monitoring?
Credit monitoring can help you avoid scams and identify fraud problems by keeping tabs on your various credit streams. You can either do it yourself by monitoring your credit or by employing the help of a credit monitoring service. Such a service tracks every transaction you make with credit bureaus, and notifies you of potentially suspicious activity.
If you've ever had fraudulent charges levied against you somehow, you know how important it is to find the problem quickly, cancel transactions, and resolve the matter. Credit monitoring services can help you with this and prevent fraud from occurring.
What are Some Examples of this?
Monitoring services (such as Experian or TransUnion) can alert you of missed payments as well as verify address changes or opening of new accounts. There are a few limitations, however, since this is primarily a notification apparatus. It cannot prevent credit card theft, stop someone from submitting a credit application in your name, or commit fraud with your Social Security number.
How Does Credit Monitoring Help You Afford a Used Car?
Credit monitoring can help you keep your finances straight, which will allow you to build a better score, and become eligible for better lending rates. This is crucial for anybody who wants to buy a home, or a car, or pay for anything through debt financing. Most of our used car clients (in fact, most Americans) use credit to purchase vehicles.
Therefore, we think it's imperative to have an organized approach to handling your credit bureaus and financing. Credit monitoring services can help you avoid losing points on your FICO score with an accidental missed payment. In today's world, where inflation continues to give us trouble, few can afford to ignore the pertinent details of personal finance.
Yonkers Auto Mall wants you to know there are so many ways to finance a car purchase, especially if you're prudent with credit management. Our goal is to facilitate an easier way to either buy or sell used cars in Yonkers. You can learn more about credit monitoring, financing, used vehicles, and more by calling us at 855-700-9198.