How To Trade-In Your Used Car
Has it come time to trade in your vehicle to purchase a newer model? Do you know how the vehicle trade-in process works? For many people, trading in their vehicle is one of the most challenging aspects of purchasing a new pre-owned vehicle, but it doesn't have to be. Knowing how to trade a car will help you get a better deal and alleviate some of the stress from the vehicle-purchasing experience.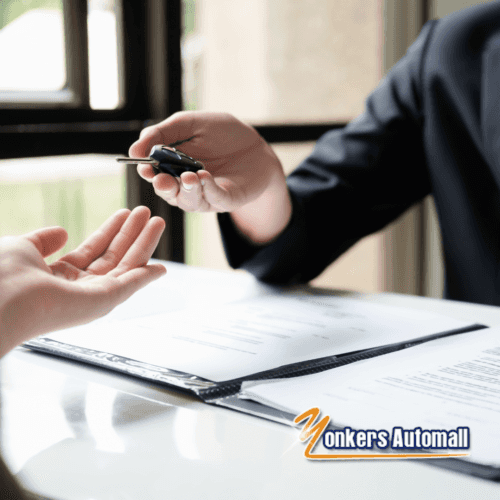 Should you want to get the best valuation for your car, you might want to consider trading it in at a reputable car dealership like Yonkers Automall. Trading your vehicle at a dealership gives you a better chance of obtaining a fair amount.
A Simple Guide To How To Trade In Your Car The Right Way
Learning how to trade in your vehicle the right way can save you time, money, and emotional strain. This process doesn't have to be frustrating and time-consuming, and there are ways to ensure you get a fair trade-in valuation. To help you along this journey, we have simplified the process by explaining a foolproof way to trade in your car below.
1. Research Your Car's Estimate Trade-In Value
The first thing you should do once you have decided to trade in your vehicle is to obtain an estimate of your vehicle's trade-in value. Fortunately, this isn't difficult to do because there are many online valuation tools.
It's in your best interests to consult multiple pricing guides. For example, you can use the Yonkers Automall dealership Kelly Blue Book valuation tool, which guarantees you get the best value for your trade. However, to get an accurate estimate, you will need to furnish the online site you choose to use with the correct information.
Often to receive an accurate trade valuation estimate, you need to provide your vehicle's make, model, correct mileage, a realistic condition level, and your ZIP code. By providing the correct information, you will learn a target trade-in price range for when you negotiate at a dealership. However, remember that you will still need to get your vehicle evaluated physically.
2. Determine If You Still Owe Money On Your Current Vehicle
After you have had your car evaluated, you need to determine if you still owe money on it. If you owe money on it, it will factor into your negotiations.
If you have negative equity or are upside down on your car loan, it means you owe more than what your vehicle is deemed to be worth. Even if you do owe more than your car is worth, you might be able to trade it in regardless.
However, the amount you still owe on your current vehicle will be placed on your new car loan. This will increase your monthly installments and could make you financially unstable so think carefully before choosing an expensive pre-owned vehicle to invest in.
3. Obtain Quotes For Your Trade-In Vehicle
Once you are aware of the true value of your car, you can begin sourcing quotes from dealerships if you were to trade it in. To begin this process, you will need to ensure you have the right documentation for when you decide to accept a quote.
Some of the documentation you will need includes your current vehicle registration, vehicle title, car keys, auto loan payoff account information, and driver's license.
To source quotes, all you need to do is contact dealerships and speak with them about buying a pre-owned car. However, remember to mention that you would like to do a trade-in and obtain a fair value for your vehicle.
Be prepared to have to take your car to the various dealerships you are requesting a quote from. This is because before they give you a firm trade-in quote, they will want to physically inspect your vehicle.
4. Negotiate And Choose A Trade-In Offer
If you want to get the best deal on your trade-in, you will need to negotiate. To enter successful negotiations, you need to ensure that the sale price you are offered is in line with the various online pricing guide valuations you obtained.
You need to look for the lowest price possible after you have deducted your trade-in value from the price of the pre-owned vehicle you are interested in purchasing. If you know this, you can negotiate for a lower price or a more fair price.
After you have negotiated and spoken to a dealership, you can choose the trade-in offer you are happy with receiving.
5. Close The Deal
The last thing it is for you to do is to accept the deal the dealership is offering you and sign the contract to sell your vehicle. Should you buy a new pre-owned car from the dealer and get credit for your trade-in, you must remember to ensure the trade-in value is listed on the contract. You also need to ensure that the dealership has deducted the right amount from the vehicle you are purchasing through them.
Get A Fair Trade-In Value at Yonkers Automall
Trading in your vehicle isn't an overly difficult process and can be an enjoyable experience if you know what to do and what to expect. At Yonkers Automall, we can help you by giving you an estimated valuation price for your trade-in. Additionally, we can help you use it as a credit to purchase a quality pre-owned vehicle through us. Our dealership has an impressive inventory from which you can choose as our cars match every preference, need, and budget.
Since choosing to trade in your vehicle is a big decision, it's best to choose a dealership you can trust. At Yonkers Automall, our qualified auto sales team guarantees to provide you with a favorable trade-in value that you can use to purchase the car you have always wanted to own. Come and visit our dealership at 1716 Central Park Avenue in Yonkers, NY or call us at (855)700-9198 to speak with one of our staff or arrange a meeting.