Tips for Making the Most of Your Test Drive
Test-driving used vehicles is one of the most important parts of the selection process. Yonkers Auto Mall wants you to get the most out of it, so we thought you might appreciate a few pointers. Check out these tips for making the most out of your test drive.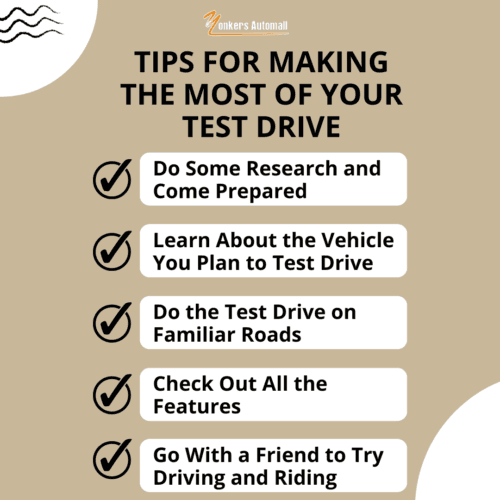 Tips for Making the Most of Your Test Drive
Do Some Research and Come Prepared
You don't want to arrive at our lot and experience confusion over which vehicles to try. It's much better to create a dream list of a few cars you want to test drive. You should also focus on your "must-have" criteria. For example, figure out whether you prefer an SUV, sedan, or truck. Also, it helps to know how you feel about manual versus automatic transmissions. There are plenty of other factors, too.
Learn About the Vehicle You Plan to Test Drive
Once you narrow down your list of possibilities, take some time to dig deeper into the vehicles themselves. You can use our website to find out all the details about any model we have at Yonkers Auto Mall. This is the time to locate all the controls and learn about vehicle amenities.
Do the Test Drive on Familiar Roads
Test driving is a lot of fun, but it helps to drive on easier roads in familiar areas. You don't want to get lost while doing this since that would distract you from getting a good feel for the car. When in doubt, use your GPS (or the car's) to create a simple route for you to follow for your test drive.
Check Out All the Features
Today's vehicles have tons of features like Android Auto and Apple CarPlay, to say nothing of all the digital screens, seat warmers, and safety features. Take some time before you drive to look at all the neat interior aspects.
Go With a Friend to Try Driving and Riding
It's good to get different perspectives on a new ride. You can do this by driving and riding as a passenger. Plus, you can hear from a trusted friend or family member their impression of the car.
These are pretty simple steps but they're easy to forget in the excitement and rush to find a new vehicle. We hope you keep these in mind when shopping for vehicles because it'll help your decision when selecting your next dream car.
Check out all of our quality used cars at Yonkers Auto Mall. We have a large showroom of pre-owned options you'll enjoy test driving. Our friendly staff is more than happy to answer questions about any model without pressure or hassle. Contact us today to learn more about our used vehicles at 855-700-9198.