Used Car Shopping Checklist
With the worldwide microchip shortage hindering production quotas of the major automobile manufacturers, many consumers are turning to used vehicles for their transportation. Many used vehicles are lower in cost and cheaper to insure. This makes them viable options that can fit within the confines of any budget. But before you sign on the dotted line, there are a few items you should look over before any purchase.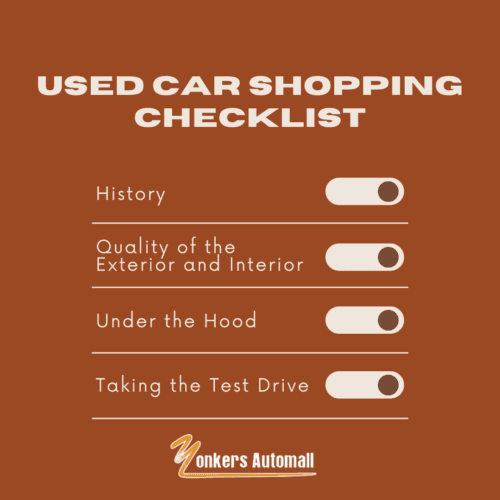 History
As a consumer, you have the right to know any major purchase's full and detailed history. Asking the dealership for a CARFAX report will alert you to any history of accidents or major repairs. If the dealership refuses, walk away. This is a huge red flag.
Quality of the Exterior and Interior
Examining the exterior and interior of any vehicle can give you an indication of whether or not your purchase is a good one. Keep an eye out for discoloration in the paint; this can indicate that the car has sustained significant body damage and was hastily covered up. This goes for the interior as well. Look under the mats and the floor. Any discoloration can indicate a leak of fluid.
Under the Hood
You might not be familiar with every component that makes up a car's engine. But even the average person can spot bad omens when they pop the hood of a car. Some items to keep an eye out for are the battery connections and the various hoses that connect the different components. If you notice anything that looks worn out or any corrosion near the battery connections, there's probably a chance that the vehicle hasn't been properly maintained.
Taking the Test Drive
When you get behind the wheel of any vehicle for the first time, there's quite a bit to pay attention to. And while you may feel tempted to try the stereo out, your hearing should be attentive to the car's sounds whenever it's moving forward. Pay close attention when you're braking or turning. Any problems can be indications of more significant problems. It's also a good idea to pay close attention to how well the car shifts. Transmission work is costly and will sap your checking account sooner than you think. When the drive is over, look underneath the vehicle to ensure that there are no leaks from either the engine or the fuel tank.
Go Used at Yonkers Automall
Purchasing a used vehicle vehicle is an excellent way to achieve the elevated quality you're entitled to. At Yonkers Auto Mall, we offer financing and accept trade-ins to get you behind the wheel. Our vehicles are all held to the highest quality standards, and we offer more coverage than the competition. For our inventory and much more, visit us at automallyonkers.com.