Value Your Trade
Since all good things must come to an end, trading in your automobile for a younger pre-loved model is usually inevitable at some point. It is important to know the value of your trade and the factors that influence the amount that it is worth. Yonkers Automall provides helpful information regarding trade-in value below.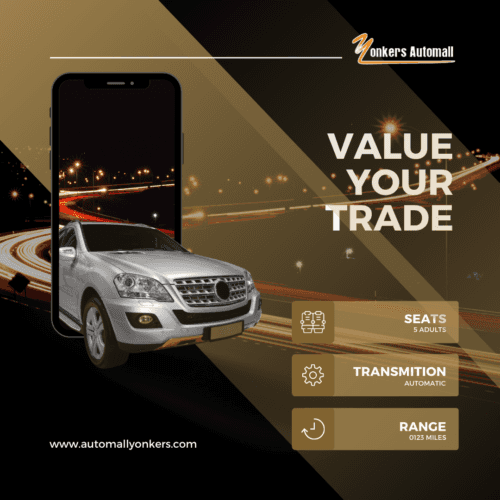 Knowing the worth of your car can play a huge part in how much money you will have towards the purchase of your next auto. You can get a better idea of the big picture including paying in cash or the terms of a loan with a down payment, and your trade-in value. There are definitely steps that you can take to make certain that you get the highest possible amount for your trade-in.
The convenience features that your car is already equipped with from the manufacturer play an important role in terms of resale desirability. Drivers want to buy pre-owned vehicles that enhance safety and comfort so that they can feel secure and enjoy their travels. Alluring characteristics such as an automatic transmission, power windows, power locks, anti-lock brakes, cruise control, remote start, well-maintained leather seats, infotainment as well as navigation apparatus are in demand among consumers. Therefore, cars with these sought-after capabilities hold higher values. Performance-based and aftermarket extras, on the contrary, have lower values as they are not viewed in a positive light by most shoppers.
By taking very good care of your automobile, you will not only be benefiting yourself and your passengers while it is in your possession, but you will also be safeguarding your investment for a future sale; therefore, the advantages you reap are actually twofold. Be sure that you treat your car properly mechanically, but cosmetically as well. It is vital that you adhere to all routine maintenance, resolve any problems that may be detected right away, and don't forget to be mindful of your automobile's eye appeal. Make sure your car is immaculate on the inside and outside as vehicles that are neat and clean are valued higher in worth than their less polished counterparts.
Yonkers Automall is an established automobile dealership in the community that has earned repeat clients over the years. Our corporation is second to none for carrying an expansive selection of the best pre-owned vehicles on the market at competitive costs. We are conveniently located at 1716 Central Park Avenue in Yonkers, NY and our experienced, friendly sales staff can be contacted by calling (855) 700-9198. Thank you for your interest in Yonkers Automall. We look forward to being of service to you in the near future.